UGI Engineering is capable of designing all mill accessories for high durability and maximum up time. The high quality of the components and a reliable standardization of spare parts, ensure our customers' expectations. UGI offers 5 years warranty for their products in place of normal 1 year warranty available in the industry.
Bar finishing components
UGI Engineering has extensive portfolio of equipment to cover the complete range of final processing needs. From counting to bundling and stacking – every thing can be arranged for a smooth final production process.
Mill Shears and Saws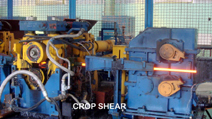 UGI Mill Shears & Saw Machine has made from EN-8 Steel fabricated stress relived body construction with control panel, starter, Automatic Operating System & Centralize Oil Lubrication System . UGI Engineering offers a full line of hot and cold shears necessary in a bar or rod mill for a wide variety of requirements, such as head/ tail cropping , dividing, sampling or scrapping, cutting-to-length. Sawing units are available for rails, medium-large sections, large bars, and special steel grades, where sawing is preferred over shearing.
Bar Sizing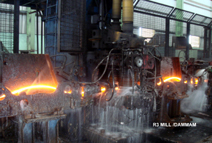 High precision rolling coupled with process flexibility and equipment durability describes the UGI Engineering with bar sizing technology. Based on the two-roll arrangement, various solutions are available, which meet every need for size, load capacity and productivity
Slitting and High Speed Cooling Bed Entry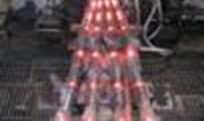 The cooling bed of movable rack type with automation facilities including a mini PLC & HOT Metal Detector (HMD) . UGI Engineering has powered slitters provide highly accurate and consistent dividing. Divided strands may be finished in the same rolling stands for better product quality and tolerance. High speed finishing maximizes rolling operation over the entire product mix .To meet the requirements of high speed delivery to the cooling bed, UGI Engineering provides the Rotary Entry System (RES) as well as the Multi channel Braking System (MBS).
Bar Thermal Processing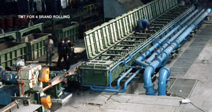 UGI Engineering has using Thermex , Germany & TEMPCORE, Belgium ,'s quenching systems to provide efficient cooling of ribbed products to meet virtually quenched and tempered rebar. Thermo mechanical Rolling (TMR) is made possible by a proper arrangement of rolling and cooling equipment, adequate load capacity in the rolling stands and intelligent rolling and cooling practices .The result is a refined micro structure in the product that has superior's-rolled mechanical and metallurgical properties, eliminating or significantly reducing the subsequent downstream processes.
Cooling Beds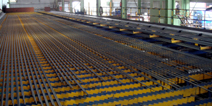 UGI Engineering cooling beds are designed using standard elements that can be combined in accordance with plant product mix requirements and production capacity. The design features cover a variety of applications : rounds from Ø 8 to 100 mm .
SLIT Technology

UGI Engineering is manufacturing bar & rod mill upto 500,000 TPA mill with Slit Rolling Technology. High production is achieved using "Slit Technology" which is proven technology in European countries .
FLOW PROCESS FOR SLIT ROLLING IN BAR MILL
| | | |
| --- | --- | --- |
| | | |
| | BILLET | |
| | (130x130x600mm/12000mm-780 kg/1560 kg) | |
| | | |
| | Billet receiving and charging | |
| | | |
| | Billet reheating in the furnance (Pusher Type) | |
| | | |
| | Pinch roller discharge from the furnace | |
| | | |
| | Hot billet transfer by inlet roller table | |
| | | |
| | Toggle shear with pinch roll | |
| | | |
| | 3 high roughing mill | |
| | (4 stand H-V configuration in future) | |
| | | |
| | Intermediate mill (6 stands H-V configuration) | |
| | | |
| | Flying crop shear | |
| | | |
| | Finishing mill (6 stands H-V configuration) | |
| | Ind. Slitting mill stand | |
| | | |
| | T.M.T. | |
| | | |
| | Cut-to-length flying shear | |
| | | |
| | Cooling bed | |
| | | |
| | Cold bar shear | |
| | | |
| | Bar bundling and counting | |
| | | |
| | Typing | |
| | | |
| | BUNDLES WEIGHING AND DESPATCHING | |
| | | |
| | | |