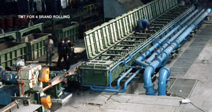 Kolkata based UGI Engineering works Private Limited ( Formerly know as Universal Gear Industries & Engineering works ) undertake the supply of Rolling mill on turnkey basis from conception to commissioning to suit the specific need of the customer. Supply of Bar mill to produce 8 mm to 40 mm with capacities upto 5,00,000 tons per annum. UGI manufacturers bar mills, wire rod mill and section mills for angle, channel, beam and flats and narrow strip mill (upto 500mm). UGI has a technical collaboration with Sead Steel, Turkey to manufacture rolling mill to produce 5,00,000 tons per annum. The technology used is "SLIT ROLLING" which is a proven in European countries and a new concept in India, The technical collaboration includes technical backup for manufacturing, erection & commission and achieving target production of the designed mill.
Company Background & Achievements
Universal Gears has supplied rolling mills to Middle East, Bangladesh, Sri Lanka, Africa, Nepal and Bhutan with capacity of 50,000 tpa to 5,00,000 tpa. In India the Rolling Mills are installed all over India with many satisfied customers in West Bengal, Assam, Meghalaya, Bihar, Jharkhand, Orissa, Andhra Pradesh, Karnataka, Tamil Nadu, Chhattishgarh & Himachal Pradesh etc.
Manufacturing Facilities
The machinery available includes Horizontal Boring Machines, Floor type Boring machines, Gear Hobbing Machine , VTL's , Center Lathes, Planing Machines and Plano Milling Machines with Facing/Grinding/Shaping/Radial Drilling and Slotting Machines etc.
Other important equipment available are MIG Welding, ARC welding Sets (Air Cooled), Gas Cutting Sets, Profile Cutter, Hack-Saw Machines, Mobile Crane (10 MT), and Complete Testing & Measuring facilities
Heat Treatment
Heat treatment is carried out in the most modern plants and special heat treatment like Gas Carburizing, Nitriding, Induction hardening are also carried out. All forging are ultrasonically tested for internal defects and are normalized, annealed or stress relieved before further processing.
Emergency Service
UGI provides following emergency services as well, for which relevant details will have to be furnished by the concerned unit in advance.
Plant & Machinery breakdown handling services on call round the clock
Arrangement for spares to handle the breakdown in shortest possible time
Preparation of assemblies for breakdown handling in Rolling Mills
Quality Policy
UGI undertakes projects to remain as a symbol of best quality and state of the art technology. Satisfaction is guaranteed to our esteemed customers through best quality control and timely deliveries. The company provides uniform quality products by observing standard work practices, and through constant training and education of its workforce. With defect reduction to achieve 'minimum rejection' levels, quality for UGI is a continuous process in improvement. UGI offers 5 years warranty for their products in place of normal 1 year warranty available in the industry.